Occupied West Bank (QNN)- Dozens of Palestinians held on Friday several vigils across the occupied West Bank in solidarity with cancer-stricken Palestinian detainee in Israeli jails, Naser Abu Hmeid, whose health is seriously deteriorating and at a high risk of death.
Several vigils were held across the occupied West Bank, including Jenin and Qalqilya in the town of Kafr Qaddum.
The peaceful protesters were holding Abu Hmeid's pictures and banners that read, "Freedom to the Palestinian detainee and cancer-striken hero in Israeli occupation jails, Naser Abu Hmeid."
They were also chanting slogans in solidarity with Abu Hmeid, calling for the immediate release of him.
A vigil was held in the occupied West Bank city of Jenin, in support of cancer patient prisoner Nasser Abu Hmaid, whose health condition is deteriorating in the Israeli prisons due to the Israel's deliberate medical neglect. #FreeThemAll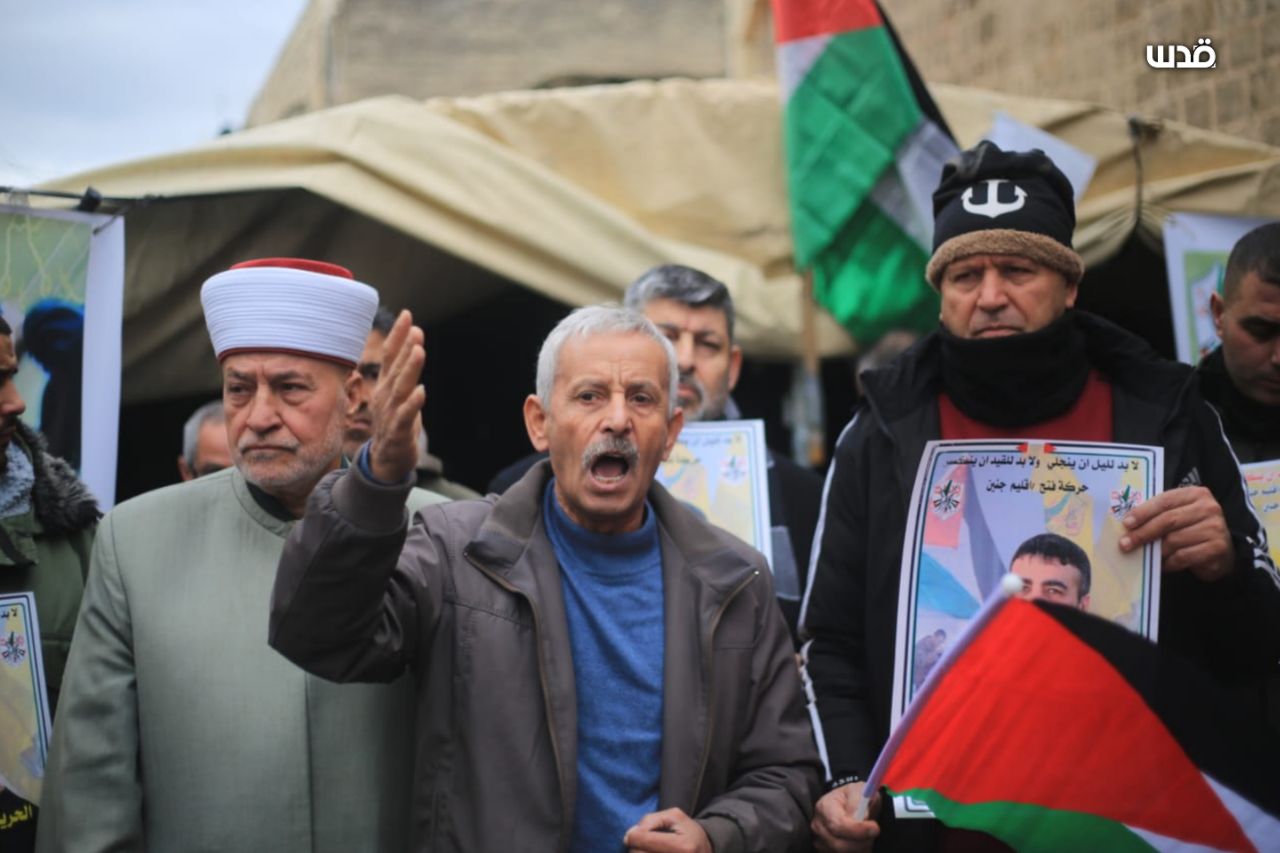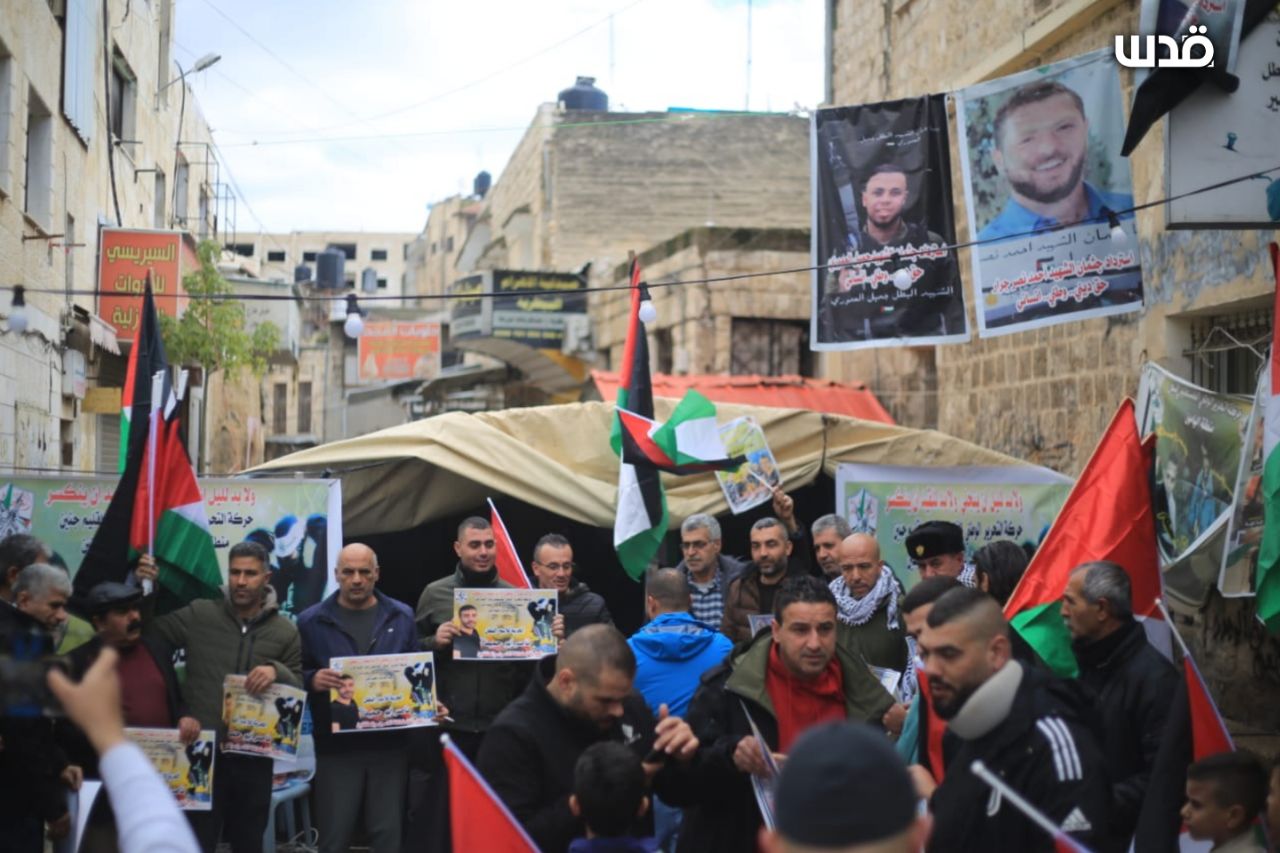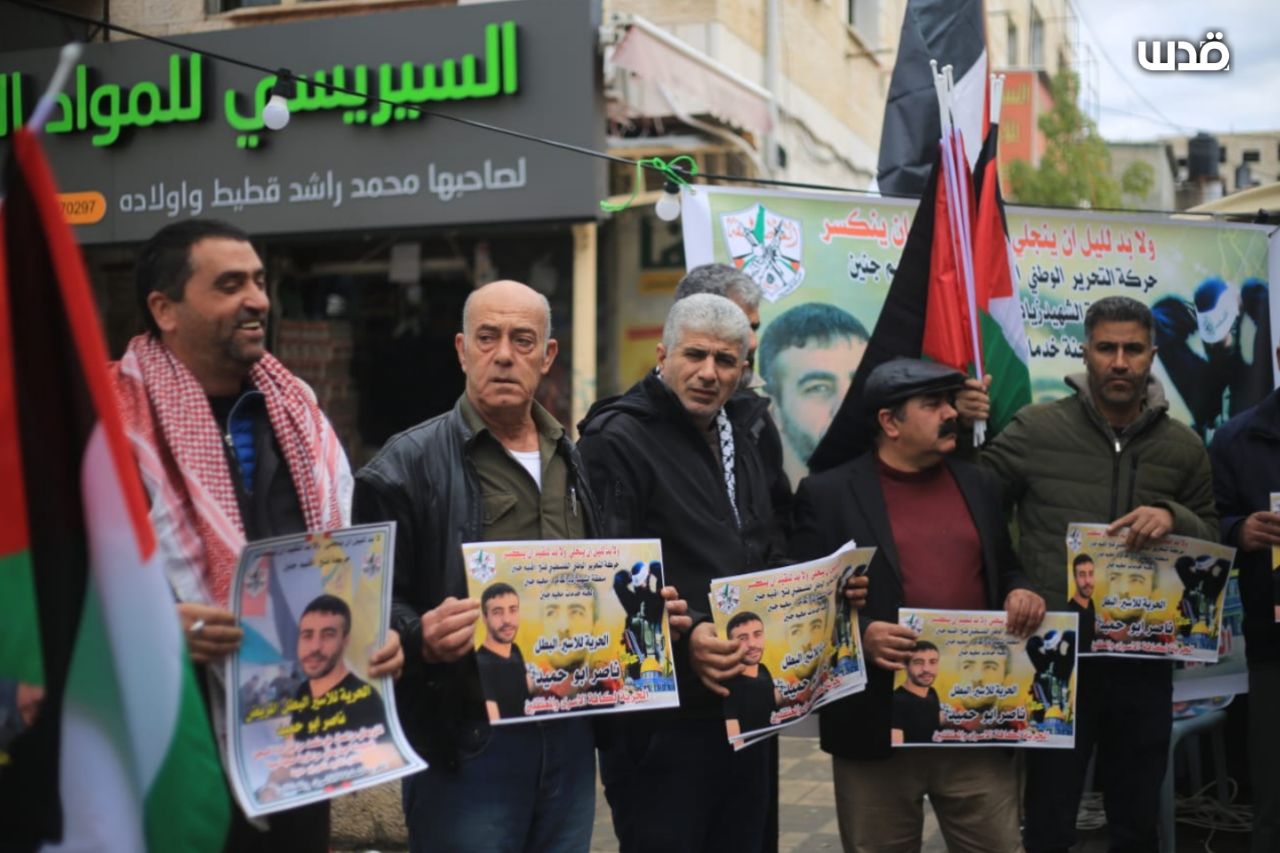 49-year-old Abu Hmeid, from the Al-Amari refugee camp in the occupied West Bank city of Ramallah, was arrested in 2002 and sentenced to seven life sentences and 50 years in Israeli prison.
Abu Hmeid has been in a coma since January 4, and he was transferred to the Israeli Barzilai hospital following a deterioration in his health, two week ago.
He has been put on a ventilator and suffers from a serious inflammation on the lungs, according to Palestinian prisoner advocacy groups. Abu Hmeid's health condition was concerning as he had severe pain in the left part of his chest in addition to breathing difficulties.
In August 2021, a cancerous tumour was detected in his lungs. Israeli prison services stalled his treatment, causing his health to decline, according to the groups.
After a series of protests organised by Palestinian detainees in Ashkelon prison, where he was being held, Naser was then transferred to the city's Barzilai hospital, where he underwent surgery to remove his tumour.
However, the prison administration transferred him back to jail before he recovered, the groups said.
He was the victim of a medical mistake during the implantation of a tube to empty the air from his lungs, causing the latest health complications, including a severe rise in his temperature.
Despite the proximity of Ashkelon prison to Barzilai hospital, the prison administration delayed transferring him again until after his health deteriorated significantly.
According to the Palestinian prisoner advocacy groups, Israeli occupation authorities have also refused to reveal details of his condition.
On Friday, his family was finally allowed to visit their son while being held in the Barzilai hospital. At the order of the Israeli occupation authorities, the visit lasted for 10 minutes, and they were not allowed to closely see him, under the pretext of the COVID-19 restrictions.
However, the family insisted on checking up on him. After a long time of procrastination, they were allowed to meet the doctor who told the family that Naser is currently in a coma due to acute respiratory infections caused and developed by a bacterial infection which weakened his immune system.
The Israeli occupation authorities continue to prevent Abu Hmeid's family, including his mother, and lawyers from visiting him under flimsy pretexts, the groups noted.
The groups added that there have been continued efforts to pressure the occupation state to transfer him for medical treatment to Jordan or Egypt.
They noted that an appeal was submitted last week for the Israeli prison administration for the immediate release of Abu Hmeid due to his serious condition, but it has not yet been answered.
Four other brothers of Naser are in Israeli prisons: Nasr, 47, Sharif, 45, Mohammad, 38, and Islam, 35. All of them are sentenced to life. A fifth brother, Abdul Meniem, was also shot dead by Israeli occupation soldiers in 1994.
Israeli authorities also demolished the house of the family several times and their mother was denied visitation to any of her sons for several years.
The Palestinian prisoner advocacy groups said 'Israel' adopts a deliberate medical negligence with Palestinian prisoners as a part of its policy to weaken them.
Since 1967, 227 Palestinian prisoners have died inside the Israeli jails, 72 of them have died due to the deliberate medical negligence.
The number of Palestinian prisoners with tumours is approximately 18; four of them have been classified as cancerous and are in an advanced stage, including Abu Hmeid.
According to the Palestinian prisoner groups, the 18 are among 550 prisoners who are classified as sick in various prisons, particularly in Ramleh, Ashkelon and Beersabe', and their numbers are rising.
(Source / 14.01.2022)