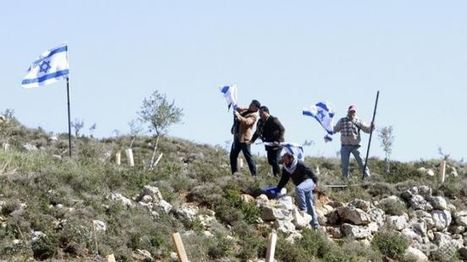 Press TV has interviewed former US intelligence linguist Scott Rickard to talk about Israel's latest plan to grab hundreds of hectares of Palestinian land.
What follows is an approximate transcription of the interview:
Press TV: What do you make of this? As soon as the onslaught on the Gaza Strip is over and of course during it also, Israel has continually seized more and more Palestinian land. It is as if no matter what the people in the world, as far as demonstrations say, basically, turns a deaf ear and blind eye to.
Rickard: Thank you for having me. I have to tell you that this is yet again another insatiable heartless appetite by the invaders and occupiers of Palestine now for over 47 years since the 1967 war and obviously over 60 years since 1948, when they were illegally given that land by the imperialists that had actually no right to give that land to the European and Russian immigrants.
So, this is horrific during a month-long slaughter and occupation of nearly 40 percent of Gaza over 1,400 were approved during the last month of August. And now we are talking about 400 hectares additional, being set up with more settlements. That is a large area.
That is about 1,000 square acres. It works about to be 40 million square feet and it could easily house tens of thousands of settlers and is right near Bethlehem and this is, yet again, another sick endeavor, demoralizing the Palestinians across the region and really it is no wonder that the Palestinians continue to fight and resist this kind of horrific, barbaric, and tremendously terrible activity that is being imposed on them for decades upon decades.
Press TV: Mr. Rickard, your perspective. What should be now the responsibility of the Palestinians? What should they do to counter this? If you were giving consultation to the Palestinian leadership, what would be their move at this point in time?
Rickard: Well, unfortunately they do not have a whole lot of possibilities other than to go to the Chinese, go to BRICS… which is probably their best bet and operating and trying to be close to that because it is outside of the empires that rule the world. I would also say that unfortunately any kind of violence is just going to result in additional slaughter. I know from a perspective of being demoralized and backed into a corner for decades upon decades. These poor children who grow up in these environments, this is all they know. So there are probably extremely frustrated and death is probably not a bother for them because of the horrific life styles that they are forced to live in. So I don't think that you can go to the United Nations. Look at what the US did this week.
They were by themselves once again, puppets for the Zionist empire that rules really much of the European countries, which by the way, have come around with their UN voting, even with the UK. But for some reason the United States has just become the leader of these horrific atrocities on this indigenous people. God bless them.
It is unbelievable that they have to put up with such horrific demoralizing and tremendous repression. I would say stay with countries that are joining and building BRICS because that would be your best future. Because right now the countries that rule the world are certainly not playing fairly.
(Source / 01.09.2014)