Archive for the 'Redactie' Category
By Engelbert Luitsz                   ©                 ( http://www.alexandrina.nl/?p=2791)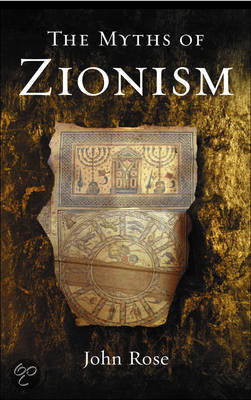 De Britse socioloog John Rose publiceerde bijna tien jaar geleden een klein boekje met als titel The Myths of Zionism. Een mythe onderscheidt zich van een leugen door het feit dat er bij het geloof in mythen geen intentie is om te bedriegen. Dat is althans een onderscheid dat Rose aanhoudt, hoewel daar natuurlijk nog wel iets op af te dingen is. Men kan mythen ook gebruiken voor een politiek doel, zonder er in te geloven, maar gebruik makend van de autoriteit van de bron, bijvoorbeeld de bijbel.
In de context die ons hier interesseert is de leider van het zionisme David Ben-Goerion een mooi voorbeeld. Deze seculiere zionist weigerde volgens Uri Avnery zelfs een keppeltje te dragen op begrafenissen, zelfs niet uit piëteit met de nabestaanden. En toch was er geen andere Israëlische politicus die zoveel aan heilige teksten refereerde, in een poging het etnisch nationalisme in Israël te bevorderen, als juist Ben-Goerion. "De Bijbel is ons mandaat" liet hij in 1936 de Britten weten, toen er een grote Palestijnse opstand was uitgebroken. De Britten hielden nog tot 1946 vast aan hun mandaatgebied, toen de terreuraanslag op het Koning Davidhotel door een joodse militie hen deed besluiten zich terug te trekken uit het gebied.
Wat Rose wil aantonen in zijn boek is dat het zionisme bij elkaar wordt gehouden door een verzameling mythen. Zoals veel mensen die zich op enig moment serieus zijn gaan verdiepen in de situatie in Palestina was er ook voor Rose een duidelijke aanleiding. In zijn geval was het een uitspraak van de voormalige premier van Israël, Ehud Barak, in 2002. Barak claimde dat "liegen" een intrinsiek onderdeel is van de Arabisch cultuur. Tijd dus om de uitspraken van zionistische ideologen en de zionistische folklore zelf eens onder de loep te nemen.
In tien jaar is er veel veranderd, maar niets ten goede als we het vanuit het perspectief van de Palestijnen bekijken. Vorige week was de Israëlische journalist Amira Hass in Nederland voor een paar lezingen. En ook al trok zij vooral mensen die zich op enigerlei wijze bezig houden met de situatie, toch was ze erg duidelijk over hoe het er momenteel aan toegaat: "Jullie denken dat de situatie zeer ernstig is, maar hij is duizendmaal erger dan je denkt." (Lees een korte samenvatting bij EAJG.)
In tien korte hoofdstukken behandelt Rose een aantal bekende onderwerpen, vaak aan de hand van belangrijke boeken. Hij begint met David Ben-Goerion, wiens ideeën eigenlijk allemaal zijn terug te voeren op zijn verachting voor alles wat Arabisch is. Zo probeerde hij de joodse bevolking wijs te maken dat Palestina 2000 jaar lang braak had gelegen, totdat de zionisten de woestijn tot bloei kwamen brengen. De Arabieren hadden het land "besmet" of vernietigd. Hij kon moeilijk hun bestaan ontkennen, want al in 1909 stond hij met een wapen in de hand "zijn Heilige Land" op te eisen.
Met zijn bizarre interpretaties en verzinsels zorgde Ben-Goerion voor wat de socialist Isaac Deutscher "de kwade geest van Israëlisch chauvinisme" noemde. De argumenten komen vandaag de dag nog steeds terug in wisselende vormen bij mensen die de joodse staat blijven verdedigen. Tegenwoordig is het echter vooral luiheid (of bewust liegen), want de afgelopen decennia hebben archeologen en historici aangetoond dat er werkelijk niets klopt van het joodse verleden. Het geweldige rijk van Koning David, de exodus, de Bar Kochba-opstand, de collectieve zelfmoord bij Massada, het zijn allemaal mythen.
In hun baanbrekende boek The Bible Unearthed: Archaeology's New Vision of Ancient Israel and the Origin of Its Sacred Texts uit 2001 leggen Israel Finkelstein en Neil Asher Silberman de Bijbel naast het archeologische bewijs. En ook de expert op het gebied van vergelijkend godsdienstonderzoek Karen Armstrong laat weinig heel van het zionistische wensdenken.
Alle naties hebben hun ontstaansmythen, het probleem met Israël is echter dat deze bewust misbruikt zijn om een ander volk van z'n land te beroven en tot op de dag van vandaag te onderdrukken en feitelijk te vernietigen. De "ecologische oorlog" in de Gazastrook met mogelijk de uitbraak van epidemieën is daar het meest recente voorbeeld van.
Een ander onderdeel dat vaak niet goed begrepen wordt is de claim van "tweeduizend jaar lijden". Rose laat mooi zien hoe dit beeld te wijten is aan het feit dat de enorme verdiensten en de machtige posities van joden door de eeuwen heen vaak worden verzwegen.  Een voorbeeld die de twee kanten van het verhaal laat zien is het zogenoemde Arenda-systeem dat tussen de 16e en 18e eeuw in Polen in zwang was. Tegen het eind van de 16 eeuw was de joodse bevolking in Polen minstens verviervoudigd tot meer dan 100.000.
De Poolse adel had behoefte aan mensen die de enorme landerijen konden beheren en dus de arme bevolking onder de duim konden houden. Dat was het Arenda-systeem. Veel joden kwamen in dergelijke posities terecht als tussenpersonen. De professor Joodse Studies Chimen Abramsky formuleerde de situatie aldus: "de hemel voor joden, een paradijs voor de Poolse adel en een hel voor de lijfeigenen".
Toen er in 1648 een opstand uitbrak onder de bevolking was ongeveer de helft van de landerijen in beheer van joden. Om die reden kwamen er naast Poolse edelen en katholieken ook veel joden om het leven. Het zou echter onterecht zijn hier van antisemitisme te spreken: het was een opstand tegen een onderdrukker, wie dat ook was geweest. Desalniettemin had het verlies van hun lucratieve economische positie en het bloedbad een belangrijk effect op de joden.
Rose ziet parallellen tussen het oude Arenda-systeem en het huidige zionisme in Israël. Ook nu krijgt het zionisme onafhankelijkheid als dank voor het behartigen van Amerikaanse economische en politieke belangen in het Midden-Oosten. Een zionisme dat zijn oorsprong heeft in de kolonisatie van Palestina.
Aan het strategische belang van Israël voor de Verenigde Staten wordt een apart hoofdstuk gewijd. Hier leunt Rose zwaar op "waarschijnlijk het belangrijkste boek over Israël in de tweede helft van de 20e eeuw". Het gaat hier om Noam Chomsky's The Fateful Triangle, The United States, Israel and the Palestinians.
Hier komt de onverkwikkelijke Suezcrisis langs, maar ook het minder bekende feit dat Frankrijk vanaf de jaren vijftig een tijdje Israëls belangrijkste militaire sponsor was. In ruil daarvoor steunde Israël Frankrijk weer bij de afschuwelijke Algerijnse oorlog, een van de meest bloedige pogingen anti-koloniale bewegingen te bestrijden.
Met de kennis van twintig jaar "vredesbesprekingen" zien we nu beter dan toen hoe Bill Clinton Israël een enorme dienst bewees door na de Oslo-akkoorden oude VN-Resoluties "eenzijdig en overbodig" te verklaren. Dit had met name effect op Resolutie 194 uit 1948, waarin het recht op terugkeer van de Palestijnse vluchtelingen was vastgelegd. Bijna vijftig jaar werk van de Verenigde Naties werd door Clinton om zeep geholpen. Wat ervoor in de plaats kwam was de vredeszwendel die nog steeds doorgaat en dagelijks slachtoffers maakt.
The Myths of Zionism heeft een uitgebreide literatuurlijst en veel nuttige noten. De conclusie van het boek is, niet verrassend, pessimistisch. "Zionisme is het probleem; het moet verdwijnen om vrede een kans te geven in het Midden-Oosten", en dat is nu, tien jaar later, nog geen stap dichterbij gekomen. Voormalig premier Ehud Olmert zei deze week nog dat premier Netanyahu Amerika "de oorlog heeft verklaard", vanwege diens weigering om tot een vreedzame oplossing met Iran te komen.
De vergelijking met het Apartheidsregime van Zuid-Afrika gaat slechts ten dele op voor Israël, maar de voormalige loco-burgemeester van Jeruzalem Menon Benvenisti maakte die vergelijking met een goede reden: men zag – onder andere door internationale druk – op tijd in dat de situatie onhoudbaar was geworden. Indien dat niet was gebeurd, was het op een later tijdstip door middel van een bloedige opstand toch zover gekomen. Daarin zit dan nog een spoortje optimisme, in de laatste regel van het boek: als Israël op tijd tot inkeer komt, voorkomen we de ontmanteling van de staat door middel van een bloedige revolutie.
De catastrofe ligt nu volledig aan de kant van de Palestijnen, maar het kan nog erger, iets waar ook Amira Hass bang voor is. De joodse bevolking van Israël kan ook het slachtoffer worden en dan zijn er alleen maar verliezers. In de visie van veel anti-zionisten zijn de meeste Israëlische joden net zozeer slachtoffer van het zionisme als de Palestijnen. Het is niet toevallig dat onder de critici veel mensen zitten uit de Arbeiderspartij die eerder deze situatie hebben helpen creëren en nu met angst en verbijstering het monster van Frankenstein zien dat ze hebben geschapen.
Zowel de V.S. als de EU zouden op z'n minst duidelijke uitspraken kunnen doen die verder gaan dan wat verwijzingen naar wetten en regels; de diplomatie heeft jammerlijk gefaald. Als de Israëlische regering gedwongen wordt tot duidelijke uitspraken over hun ware agenda en zich niet langer verbergt achter leugens en rookgordijnen zal dat een eerlijke berichtgeving ten goede komen. Bij een misplaatste loyaliteit met een land dat afstevent op een ramp is niemand gebaat.